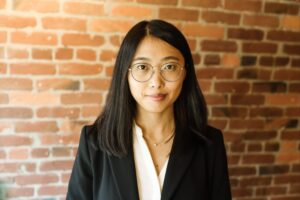 Haoyu is an associate at Bojm, Funt & Gibbons LLP. She received her J.D. from the University of Victoria with co-op designation. Haoyu was called to the bar in 2022 after articling at the firm.
Before joining Bojm, Funt & Gibbons LLP, Haoyu worked as a co-op law student at a litigation firm in Vancouver and the Ki-Low-Na Friendship Society in Kelowna. Prior to that, she worked at two national law firms in China where she gained experience in business law.
Haoyu is fluent in English and Mandarin Chinese.
Education
J.D., University of Victoria —2021
L.L.B, B.Ec, University of International Business and Economics (China) —2017