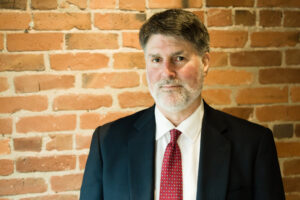 ASSOCIATE COUNSEL | Jeff Scouten was called to the bar of British Columbia in 1984 and is a seasoned and respected courtroom lawyer.  He represents corporate and individual clients in litigation before all levels of court in BC, as well as before administrative tribunals and in arbitrations and mediations.  He has extensive experience in all aspects of commercial and insurance litigation, in bankruptcy and insolvency matters, real estate litigation, professional malpractice, municipal law, professional discipline and other administrative law matters, and wills and estates litigation.
He often acts as counsel on complex commercial disputes, including contractual and other disputes between businesses and on internal corporate and partnership disputes.  He also represents clients on disputes arising out of real estate and other transactions that have gone awry or that involve contested ownership claims or disputed property rights.  He also represents both individuals and corporations in claims for damages for professional negligence, in defamation actions, and in claims involving allegations of fraud, breach of trust or breach of fiduciary duty.
Jeff advises real estate brokerages, real estate agents and other regulated professionals on issues arising in the course of their business, including commission disputes and licensing and disciplinary matters.
Before joining Bojm, Funt & Gibbons LLP in January 2021, Jeff practised for 5 years as Associate Counsel with the Vancouver litigation firm of Hakemi & Ridgedale LLP. Prior to that he was a founding partner and principal of a litigation boutique and previously was a partner in a major national law firm.
In 1997, the Canadian Bar Association honoured him with the CBA's National Centennial Medal for his service to the legal profession.  He is also a member of the editorial board for the British Columbia Civil Trial Handbook, a publication of the Continuing Legal Education Society originally conceived by him now in its 5th edition.  He is also a former Governor of the Law Foundation of BC and former chair of the BC Public Interest Advocacy Centre.
When not practising law, Jeff plays banjo in a five-piece bluegrass band, and is an avid reader and collector of rare and antiquarian books.
EDUCATION
University of Toronto Faculty of Law, Toronto, Canada – LL.B.
University of Manitoba, Winnipeg, Canada – B.A. (Philosophy and Mathematics)
PROFESSIONAL ACTIVITIES
Lecturer, Advanced Trial Advocacy Workshop, (CLE)
Editorial Board Member and Author, Civil Trial Handbook published by CLE
Past Chair, BC Public Interest Advocacy Centre
Past Governor, Law Foundation of British Columbia
Past Speaker, Pacific Legal Technology Conference
Past Executive Committee Member, Canadian Bar Association BC Branch
Past Co-Chair of the CBA National Future of Canada Initiative
*Practicing through the Jeffrey Scouten Law Corporation